Home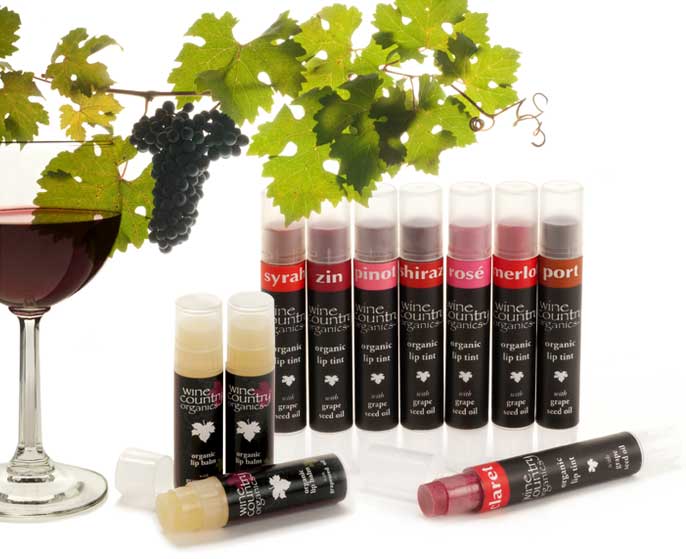 100% Natural Lip Care.
Nurture the Body.
Nurture the Earth.
Organic Makeup
by Wine Country Organics
™
A subtle kiss of color and shine enhance Wine Country Organics™100% natural lip tint and certified organic lip balm. Grape seed oil moisturizes and soothes your lips while nourishing vitamin E heals and protects from sun, wind and cold.
Organic Lip Balm and Lip Tint
The sunny days and cool nights of California's ever-beautiful wine country inspired all of Wine Country Organics™ striking lip shades. Use our organic makeup alone for moisturizing sheer color, or layer under lipstick for added shine and subtle gloss. View Wine Country Organics™ sumptuous line of organic cosmetics!
Our organic makeup products with grape seed oil are rich in natural emollients and moisturizers. Made from 97% organic ingredients, including natural Vitamin E and organic jojoba oil to moisturize your lips, our all-natural lip tints and organic lip balm give your lips a beautifully radiant look while adding a touch of sheer color. They are good for you because the grape seed oil acts as an anti-oxidant to keep your lips smooth, healthy and help reduce the signs of aging.
Wine Country Organics™ creates these beautiful, handmade organic cosmetics in Northern California, USA.
Organic plant oils and natural mineral colors direct from Wine Country Organics
™

 to you!

Our support of organic and sustainable farming practices provides pure organic grape seed oil cosmetics while returning a portion of our profits to socially responsible organizations. All of our earth-friendly products contain no artificial fragrances, parabens, SLS, phthalates, synthetic colors or flavors, and we use no ingredients tested on animals. Discover how we deliver kissable lips while supporting organic agriculture and humanitarian projects by exploring our website.